How Will Joaquin Compare to Superstorm Sandy, Hurricane Isabel? It's best to be prepared.

Report by Paula Antolini
October 1, 2015 1:24PM EDT
Hurricane Joaquin Is On Its Way, Will It Hit CT? Hurricane Preparedness – Be Ready
How Will Joaquin Compare to Superstorm Sandy, Hurricane Isabel? "While there are still scenarios that would take Hurricane Joaquin out to sea, the possibility of the hurricane reaching the Eastern United States coast is gaining merit," according to accuweather.com. Senior vice president and chief innovation executive of AccuWeather Enterprise Solutions, Mike Smith, said, "There is going to be catastrophic flooding from North Carolina to Massachusetts, and this is going to disrupt the economy regardless of whether or not Hurricane Joaquin makes landfall."
Accuweather.com further reads, "No matter how similar the pattern may seem, no two storms are ever exactly alike. The same can be said about the situation developing this weekend along the Atlantic coast with the approach of Joaquin…..The angle and strength of the storm's approach compared to geography and whether or not the storm is strengthening or weaken at landfall can be huge factors in the severity of the weather that occurs."
For the latest accuweather report CLICK HERE.
*****
It's best to be prepared:
Hurricanes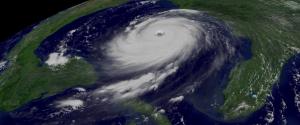 This explains what actions to take when you receive a hurricane watch or warning alert from the National Weather Service for your local area. It also provides tips on what to do before, during, and after a hurricane.
Basic Preparedness Tips
Know where to go. If you are ordered to evacuate, know the local hurricane evacuation route(s) to take and have a plan for where you can stay. Contact your local emergency management agency for more information.
Put together a disaster supply kit, including a flashlight, batteries, cash, first aid supplies, and copies of your critical information if you need to evacuate
If you are not in an area that is advised to evacuate and you decide to stay in your home, plan for adequate supplies in case you lose power and water for several days and you are not able to leave due to flooding or blocked roads.
Many communities have text or email alerting systems for emergency notifications.To find out what alerts are available in your area, search the Internet with your town, city, or county name and the word "alerts."
Preparing Your Home
Hurricane winds can cause trees and branches to fall, so before hurricane season trim or remove damaged trees and limbs to keep you and your property safe. Be aware of any fallen leaves or branches that may have blocked the flow of water in your gutters, as you may be required to contact someone similar to this Clean Pro Gutter Cleaning Birmingham company who will be able to give your system a much-needed clean so that you can reduce the risk of having to deal with any water damage.
Secure loose rain gutters and downspouts and clear any clogged areas or debris to prevent water damage to your property, you could also look into sites like www.mastershieldatl.com tht have gutter guards available for purchase so you won't have to worry about your gutters clogging up with debris all year round.
Reduce property damage by retrofitting to secure and reinforce the roof, windows and doors, including the garage doors, otherwise you could be looking at a larger bill to repair said damage using the services of companies like Water Damage and Roofing of Cedar Park for example. If you do end up needing roofing repairs or replacement due to damage of any kind, you may need to seek out reputable austin roofing companies if you live in Texas.
Purchase a portable generator or install a generator for use during power outages. Remember to keep generators and other alternate power/heat sources outside, at least 20 feet away from windows and doors and protected from moisture; and NEVER try to power the house wiring by plugging a generator into a wall outlet.
Consider building a FEMA safe room or ICC 500 storm shelter designed for protection from high-winds and in locations above flooding levels.
Hurricane Watch
Hurricane watch = conditions possible within the next 48 hrs.
Steps to take:
Hurricane Warning
Hurricane warning = conditions are expected within 36 hrs.
Steps to take:
Follow evacuation orders from local officials, if given.
Check-in with family and friends by texting or using social media.
Follow the hurricane timeline preparedness checklist, depending on when the storm is anticipated to hit and the impact that is projected for your location.
What to do when a hurricane is 6 hours from arriving
If you're not in an area that is recommended for evacuation, plan to stay at home or where you are and let friends and family know where you are.
Close storm shutters, and stay away from windows. Flying glass from broken windows could injure you.
Turn your refrigerator or freezer to the coldest setting and open only when necessary. If you lose power, food will last longer. Keep a thermometer in the refrigerator to be able to check the food temperature when the power is restored.
Turn on your TV/radio, or check your city/county website every 30 minutes in order to get the latest weather updates and emergency instructions.
What to do when a hurricane is 6-18 hours from arriving
Turn on your TV/radio, or check your city/county website every 30 minutes in order to get the latest weather updates and emergency instructions.
Charge your cell phone now so you will have a full battery in case you lose power.
What to do when a hurricane is 18-36 hours from arriving
Bookmark your city or county website for quick access to storm updates and emergency instructions.
Bring loose, lightweight objects inside that could become projectiles in high winds (e.g., patio furniture, garbage cans); anchor objects that would be unsafe to bring inside (e.g., propane tanks); and trim or remove trees close enough to fall on the building.
Cover all of your home's windows. Permanent storm shutters offer the best protection for windows. A second option is to board up windows with 5/8″ exterior grade or marine plywood, cut to fit and ready to install.
What to do when a hurricane is 36 hours from arriving
Turn on your TV or radio in order to get the latest weather updates and emergency instructions.
Build or restock your emergency preparedness kit. Include a flashlight, batteries, cash, and first aid supplies.
Plan how to communicate with family members if you lose power. For example, you can call, text, email or use social media. Remember that during disasters, sending text messages is usually reliable and faster than making phone calls because phone lines are often overloaded.
Review your evacuation plan with your family. You may have to leave quickly so plan ahead.
Keep your car in good working condition, and keep the gas tank full; stock your vehicle with emergency supplies and a change of clothes.
After a Hurricane
Listen to local officials for updates and instructions.
Check-in with family and friends by texting or using social media.
Return home only when authorities indicate it is safe.
Watch out for debris and downed power lines.
Avoid walking or driving through flood waters. Just 6 inches of moving water can knock you down, and fast-moving water can sweep your vehicle away.
Avoid flood water as it may be electrically charged from underground or downed power lines and may hide dangerous debris or places where the ground is washed away.
Photograph the damage to your property in order to assist in filing an insurance claim.
Do what you can to prevent further damage to your property, (e.g., putting a tarp on a damaged roof), as insurance may not cover additional damage that occurs after the storm.
When there is no hurricane: Make a hurricane plan
Know your hurricane risk. Talk to your local emergency management agency.
Make an emergency plan.
Build or restock your basic disaster supplies kit, including food and water, a flashlight, batteries, chargers, cash, and first aid supplies.
Consider buying flood insurance.
Familiarize yourself with local emergency plans. Know where to go and how to get there should you need to get to higher ground or to evacuate.
Stay tuned to local wireless emergency alerts, TV, or radio for weather updates, emergency instructions, or evacuation orders.
Community Events
*****
Information from the National Weather Service / National Hurricane Center:
Hurricane Preparedness – Be Ready
Two keys to weather safety are to prepare for the risks and to act on those preparations when alerted by emergency officials. These are essential pieces to the Weather-Ready Nation.
Refer to the Federal Emergency Management Agency's (FEMA) Ready.gov/hurricanes for comprehensive information on hurricane preparedness at home and in your community.
Some highlights on how to prepare and take action are available below:
Gather Information
Know if you live in an evacuation area. Assess your risks and know your home's vulnerability to storm surge, flooding and wind. Understand National Weather Service forecast products and especially the meaning of NWS watches and warnings.
Contact your local National Weather Service office and local government/emergency management office. Find out what type of emergencies could occur and how you should respond.
Contacts
Keep a list of contact information for reference.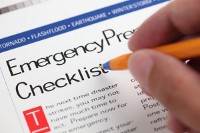 County Law Enforcement
County Public Safety Fire/Rescue
State, County and City/Town Government
Local Hospitals
Local Utilities
Local American Red Cross
Local TV Stations
Local Radio Stations
Your Property Insurance Agent
Risk Analysis
Online hazard and vulnerability assessment tools are available to gather information about your risks.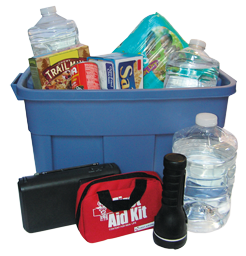 Plan & Take Action
Everyone needs to be prepared for the unexpected. Your friends and family may not be together when disaster strikes. How will you find each other? Will you know if your children or parents are safe? You may have to evacuate or be confined to your home. What will you do if water, gas, electricity or phone services are shut off?
Supplies Kit
Put together a basic disaster supplies kit and consider storage locations for different situations. Help community members do the same.
Emergency Plans
Develop and document plans for your specific risks.
Health & Environment
Follow guidelines to guard your community's health and protect the environment during and after the storm.
Evacuation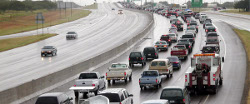 Review the FEMA Evacuation Guidelines to allow for enough time to pack and inform friends and family if you need to leave your home. FOLLOW instructions issued by local officials. Leave immediately if ordered!
Consider your protection options to decide whether to stay or evacuate your home if you are not ordered to evacuate.
When waiting out a storm be careful, the danger may not be over yet…
Be alert for:
Tornadoes – they are often spawned by hurricanes.
The calm "eye" of the storm – it may seem like the storm is over, but after the eye passes, the winds will change direction and quickly return to hurricane force.
Recover
Resources
###